When you do something for someone who you know cannot repay you back, then you are doing God's work. When you decide to help someone and you make it your life's mission to volunteer, then you go beyond any great thing that people do for themselves. There are a certain pleasure and compassion feeling that you get from helping someone else. That is why volunteering can be the most selfish thing you do. Because you get this great feeling out of doing it and you become a better person thanks to it.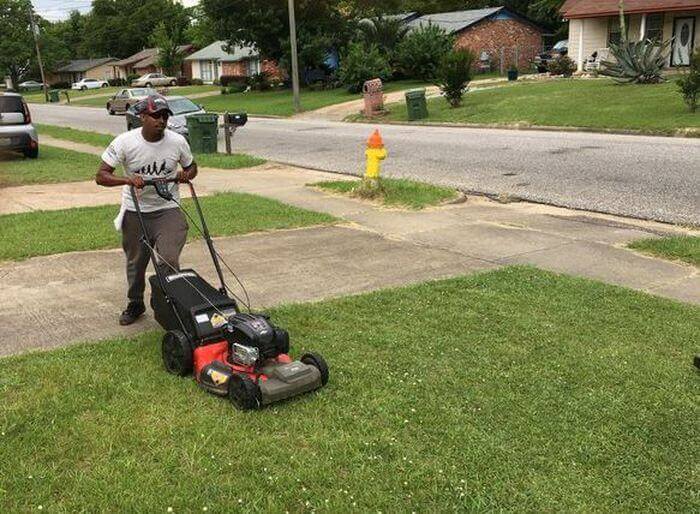 Rodney Smith has decided to take on a life mission of helping other people. He doesn't want any money for it, he does it simply out of the pleasure of doing it and out of the compassion of helping others. He has created an organization called Raising Men Lawn Care Service and he offers free lawn maintenance for single mothers, veterans, disabled people and elderly. Creating a service for a greater cause and for the good of the community is one of the best things that someone can do in this world. These little things are the ones that truly matter in life.
Rodney wasn't just satisfied with cutting lawns for other people. He wanted to help and he saw it as his life mission that he had to use his profession in the good of others. See it doesn't take miracle to help others. It doesn't take money or resources to save the planet. And it definitely doesn't take effort or a genius mind to serve your own community. All it takes is to find out what you love to do and then do it for free for others, this way you are helping a whole community.
Rodney is from Huntsville in Alabama and he has changed his life by taking on this purpose. But he didn't just take on the purpose and started taking action randomly. I have heard Denzel Washington say that dreams without goals are just dreams. That's why Rodney decided to set out goals in order to complete his job. And one of his greatest goals was cutting the lawn of every single veteran in America and I am talking about all the 50 states. But he didn't just do all of this on his own. Instead he started getting help from young men who would like to volunteer.
A big thank you to @Delta for getting me to my last 2 States, @customink for donating my shirts & @TheToroCompany for donating the hats! & to each & every1 of your for your support, encouragement & donations along the way for gas & hotels !You made this possible! THANK YOU!!!! pic.twitter.com/gsZ2ERYPY3

— Rodney Smith Jr (@iamrodneysmith) June 13, 2019
Rodney took the goal on social media and that is how he started to find veterans that really needed his service. City after city and home after home, finally Rodney managed to make his dream become a reality. No he is on social media posting a new location every day. Every day is a new home and every day is a new person to be helped. Every day is a new kid to be mentored into the importance of helping others. God bless this man who is truly doing a saints work and is giving a major contributes to the community.