For weeks now, every restaurant, store, and other businesses are closed due to the pandemic of the coronavirus. People are staying inside and finding a way to keep entertaining themselves. One example of keeping things interesting and funny is what 6-year-old Miela Kroenke did to accomplish the challenge that her dance studio set. The Nebraska dance studio wrote to their students, challenging them to take one family member and teach them one of their routines. To make it even more interesting, instead of picking her mother. Miela wanted her father, state trooper Lt. Tyler Kroenke, to learn the dance routine.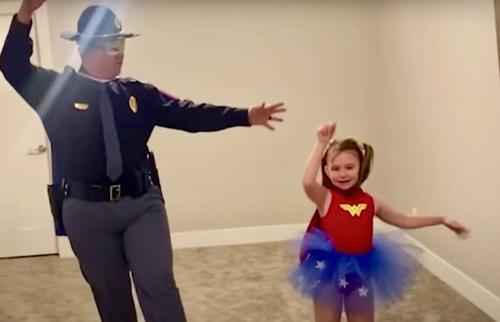 They had to film the whole thing, and in the video, you can see Miela dressed in a Wonder Woman costume and her father wearing his uniform, plus a cape and an eye mask. Dancing to Bonnie Tyler's song 'Holding Out For a Hero,' the video will surely make you smile, seeing Miela's father trying to keep up with his daughter.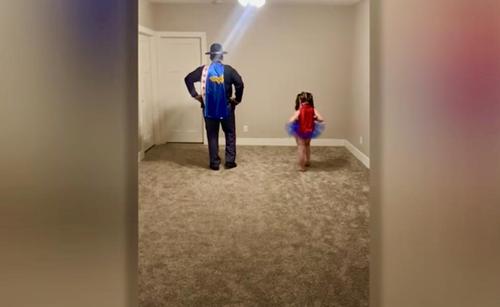 At the start of the video, you can see the father and daughter not facing the camera, showing off their capes. When the songs come to the part where Bonnie Tyler sings, 'I need a hero,' both turn around and face the camera. And they sure are heroes, Miela wearing her Wonder Woman costume and her father playing a real-life hero, wearing his uniform. Using an empty room in their house, they twist, jump, kick their legs in the air and even roll on the ground. It is clear that Miela is leading the dance, but even though her father isn't the most skilled dancer, you could see that he took some time and effort to learn the dance moves. His movements aren't as good as his daughter, but he is keeping up quite nicely.
The 31-year-old father, told news stations that because of the pandemic and everyone had to stay home, including his daughter, of course. He wanted to do it for her because dancing is her favorite thing. He said that his daughter wanted him to learn all the dance moves perfectly before they recorded themselves dancing. He also added that they had videos where he messes up parts of the dance, and those videos are even funnier and exciting than the original video.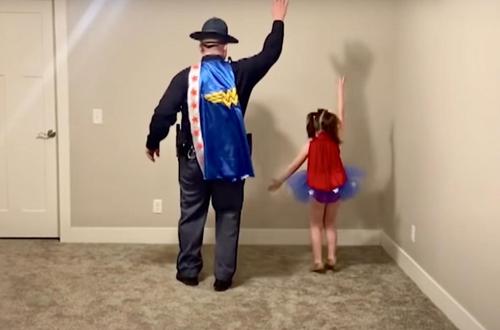 He said that he wanted to post the video online for everyone to see and hoped that with him looking silly, people will have a laugh, and their day will be better. While dangerous times are upon us, videos like this can make us feel happier and brighten up our day.
The father and daughter dance routine video was posted by the Nebraska State Patrol on their social media. Since then, the video went viral, racking up more than 770,000 views. It is absolutely amazing seeing the pair dance together, and knowing that Miela's father supports his daughter's passion for dancing. Plus, seeing a video like this can give us some light in times when the world is facing challenging times.