Recently a video has popped-up online of a cute little puppy who had been left by her owner in the middle of an abandoned parking lot. This unpleasant sight was videotaped close to a local Sam's Club, right outside Memphis, Tennessee. The dog was left there, and it was barking and howling for days. No one was nearby to help her.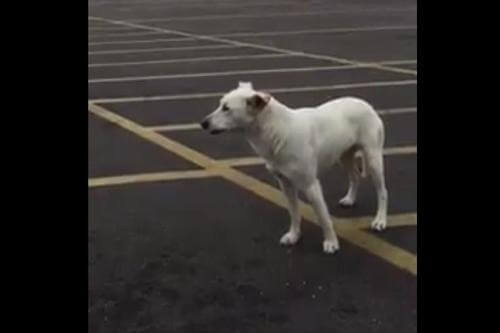 People from staff who were working at Sam Club have said that the dog would come over and check every car there hoping to find her owner. And she did that every day. He would get close to the cars and look for a couple of seconds, then disappointed that she didn't see her owner go to the next one. But one day, Mary Murphy, who is a volunteer at the Arrow Dog Rescue organization, saw the puppy that was alone in the parking lot. Marry was going to Sam's Club in order to pick up some things when she saw the puppy, she didn't get the chance to get close to put a collar on her.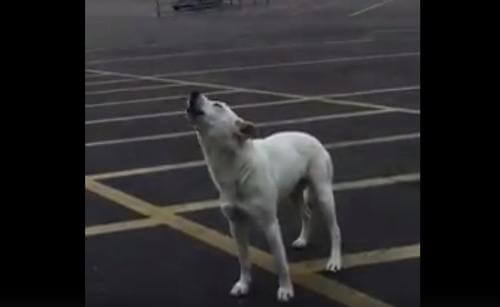 But she didn't just want to leave the dog there. She thought that if she went to him immediately, that would scare her and she could run away. So she decided to bring a chair, a book and her own dog at the parking lot. She knew that dogs like this little puppy are going through a lot of stress, and going towards her could be scary, so she brought her dog, and the plan was that the abandoned dog would come to them. With her years of experience dealing with dogs like this, Mary knew what she was doing.
It took three long days for Mary to gain the trust of the puppy. Jeff Guy, who is the owner of a local auto market, also helped out Mary in order to save the little puppy. He even named her Samantha. He also wanted to cover all the medical bills that would come after the recovery of Samantha. The puppy was at that parking lot for nine days, waiting for her owner to come back.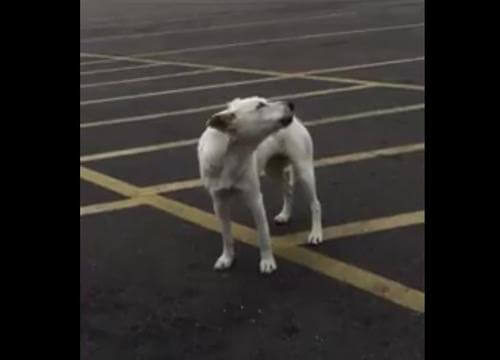 After Samantha was taken to Arrow Dog Rescue, she was taken care of immediately. She was given to eat and drink water and had a proper bath. Now Samantha is staying at Mary's house until she is ready to be transported to Illinois, where her new family is waiting.
When Samantha was brought to the rescue center, they posted her story on their social media. In a matter of days, thousands of people all over the US messaged the rescue center wanting to adopt her. They have said that the response was heartwarming and that so many people reached out wanting to adopt Samantha. In the end, they decided on a new home and a couple more if the first one didn't work out.
This girl was dumped 9 days ago at Sam's Club. Mary Murphy sat for 3 ½ days with her to gain her trust and now Crooner is safe, but needs a temp foster for about 7 days in the Memphis area. She is very scared, and skittish, and needs to be somewhere quiet with someone with a little experience with this type of dog. We will be arranging transport to bring her to Arrow Dog Rescue-Animal Rescue Revolution on Wheels. Can anyone help our sweet girl?

Posted by Kimberley Slown on Friday, December 11, 2015
When Samantha arrived at her new home, she was a bit shy, but after a couple of days with her new family, she became a happy, loving dog again. Having been left for nine days at a parking lot to having a loving family, Samantha is one lucky dog.