Most people since they were young imagined to have a home of their own, and picture it the way they want it. Other life's dream is to travel as much as possible and see the places that this world can offer. But, what if you combine these two dreams. Having the luxury of having a home and traveling in that home. Well, one couple had a solution for that, they bought an old school bus and transformed it into a mobile home, traveling every day.
They first started by buying an old school bus in Florida, and started working on it. They removed all the seats and other unnecessary stuff and began to remodel the whole bus. When they finished the remodeling, they had a bus that was a livable home and a travel-ready space.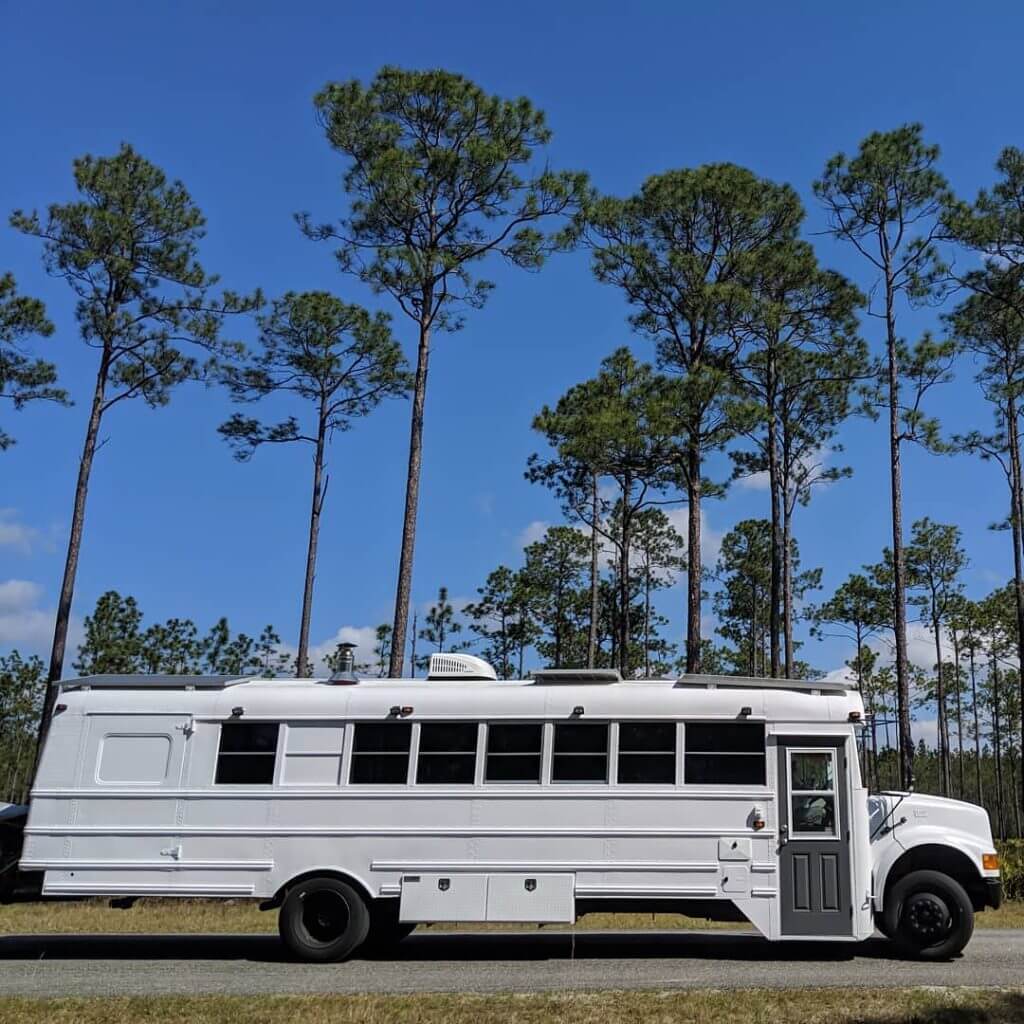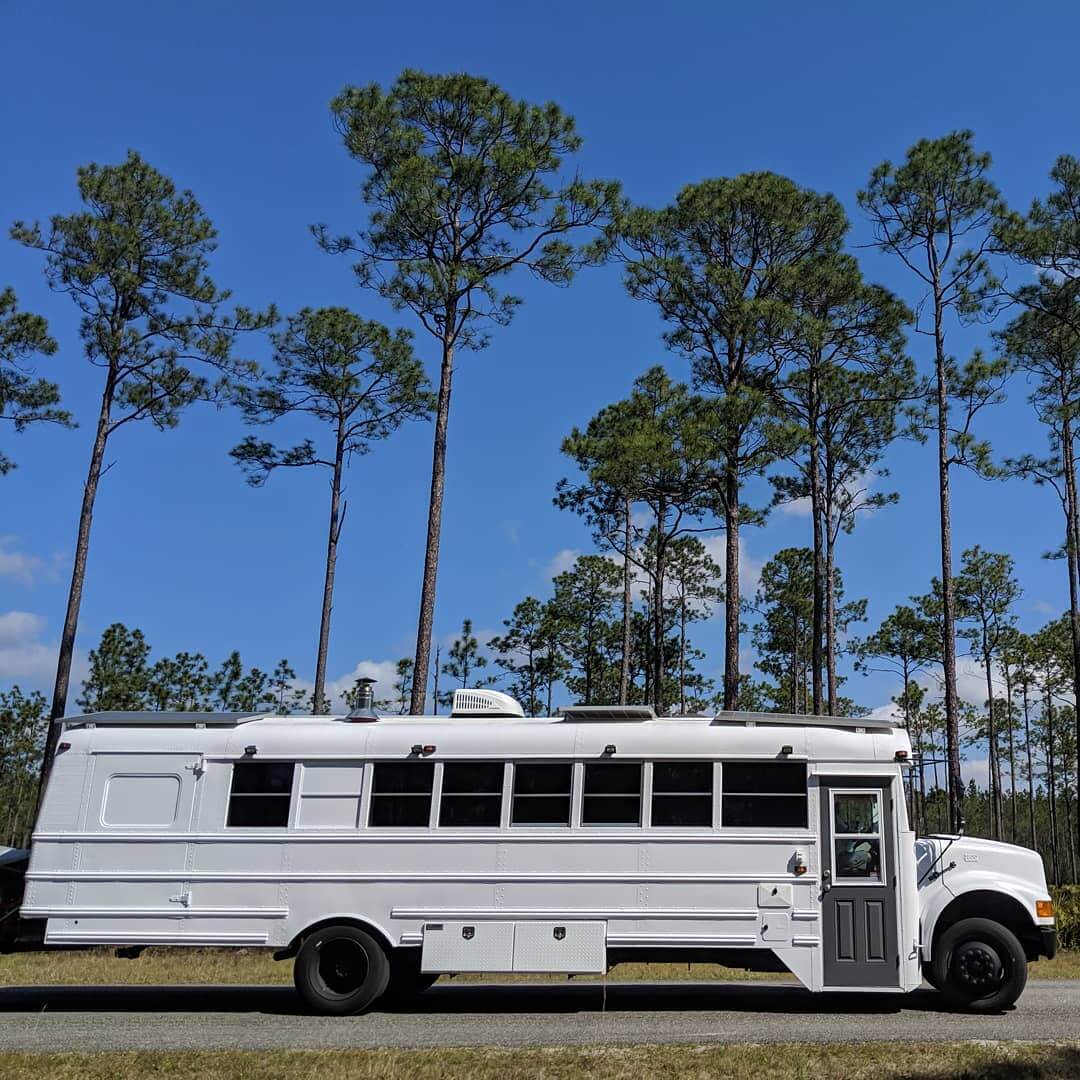 The hardest thing they had to do was surely the floor and the removal of the numerous seats inside. When they finished removing the floor, they had to replace it with new flooring, had to put panels and some insolation. It took them almost a year and a half, but they did it.
Like any other mobile home, the most efficient energy source will be the sun, so they installed solar panels on top of the bus. Not only is it a great way to power the whole bus inside, but it will also save you lots of money. Electricity was important to have, so they put their thinking hats on and started to find solutions. They also wanted to make the bus-long distance ready, not only a plain mobile home.
As they were finishing their project, they started to see that the hard work they put into making this dream a reality was finally paying off. With new windows being put up, the rooms inside getting their final touches, and getting electricity like in a typical home, they were delighted by what they had accomplished.
Maximizing the small space was tough, but they made it work, like putting their laundry room beneath their bedroom. They also didn't want to go outside every time they wanted to go to the bathroom, so they figured it out how to put their own bathroom inside the bus. And we aren't talking about just a toilet and a sink, they have a complete shower inside the bus as well.
They also were huge fans of cooking, so having a kitchen big enough to cook was definitely in the plan. It is not your average looking kitchen, but for a mobile home, it will do perfectly. All the rooms are decorated as well, they didn't want just to put a bed in that corner a table and two chairs and manage to have a bathroom and a kitchen. If you show photos of how the whole mobile home looks inside, we guarantee that some people won't even notice that this is a renovated school bus.
View this post on Instagram
They also have a pet cat who is hanging around all the time, and unlike your regular car ride that most cats don't enjoy, their cat doesn't seem to mind the constant traveling. They have said that at first, he wasn't pretty happy that they moved a lot, but after spending a week on the bus, he got used to it. He has his food and water bowls in one corner that are always open if he wants to eat or have a drink.
We are sure that at the beginning of this significant project, they thought it was going to be hard, and they had to think about every single thing in detail if they were to make it work. But when the project was done, we are sure that they were proud of what they have achieved.
The idea of a mobile home is lovely, having to go where ever you want and having a comfy bed at the end of the day seems like and dream. It has is setbacks, but if you put in the work and think about what needs to be done, it can be a dream come true. 
Small homes like this one have become pretty popular in recent times. If you are thinking about the next part of your life and you want one of these small homes, Amazon has started to sell all the kits you need in order to make your dream home.
One of the more popular is the Timberline cabin kit made by Allwood. They come with a floor plan, and for many people, this is enough space to live in. The only downside to this small home is that there is no bathroom.

Another popular small home idea is getting an old shipping container and remodeling it to a tiny home. We know that from the outside, it won't look as good as the little bus or the small home, but on the inside, it can be as good as the rest.