People seem to always feel sorry for women who are single. Hell, some single women even feel sorry themselves!
But reading single quotes for girls can help you feel empowered. Being single is not a death sentence, it's actually really rewarding.
Think about it, you can focus solely on being the best version of yourself that you can be and doing exactly what you want and need. You won't be single forever — or maybe you will. Who cares! You need to embrace your current single status and enjoy the heck out of it.
This is the only life you get! You don't need a man or a partner or to be in a relationship to be happy.
There's no reason you should feel bad to stay single because lots of women choose to be single or don't mind staying single because they are thriving in their careers and don't want to be tied down.
The best thing, by far, about being single is realizing how strong you are and you can learn to be a fiercely independent woman and to be happy through these quotes.
Here are 25 inspirational single quotes for girls that can help remind you why flying solo kind of kicks butt.
1. "S.I.N.G.L.E = Strong, Independent, Noticeable, Generous, Loving, Enlightened."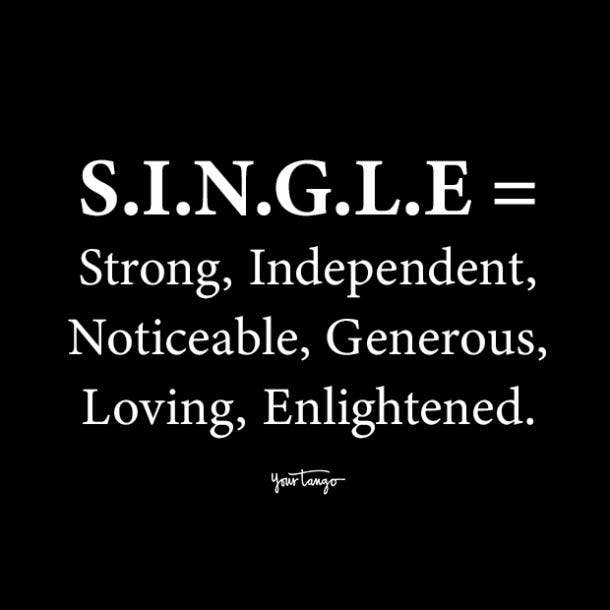 2. "Single is no longer a lack of options – but a choice. A choice to refuse to let your life be defined by your relationship status but to live every day Happily and let your Ever After work itself out." — Mandy Hale
3. "I recommend to all my friends that they be alone for a while. When you're in love or dating someone, you filter your life decisions through their eyes. When you spend a few years being who you are, completely unbiased, you can figure out what you actually want." — Taylor Swift
4. "The most profound relationship we'll ever have is the one with ourselves."
5. "I'm not alone! I'm with myself. And myself is fabulous." — Eva Longoria
6. "Once we recognize what it is we are feeling, once we recognize we can feel deeply, love deeply, can feel joy, then we will demand that all parts of our lives produce that kind of joy." — Audre Lorde
7. "Single is not a status. It is a word that describes a person who is strong enough to live and enjoy life without depending on others."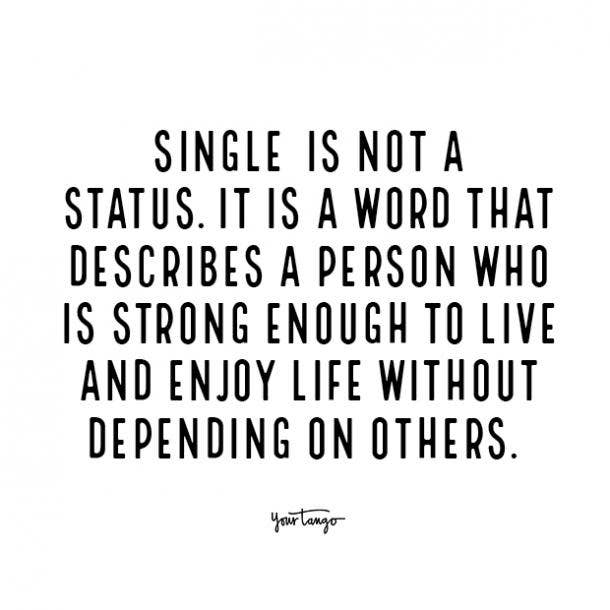 8. "A busy, vibrant, goal-oriented woman is so much more attractive than a woman who waits around for a man to validate her existence." — Mandy Hale
9. "I think, therefore I'm single." — Liz Winston
10. "Yes … I'm single. And you'll have to be f—g amazing to change that."
11. "My work is so rewarding and I'm so self-centered about it that I'm kind of excited about not having to go home and ask someone about their day." — Mindy Kaling
12. "This is a good sign, having a broken heart. It means we have tried for something." — Elizabeth Gilbert
13. "Be with someone that makes you happy."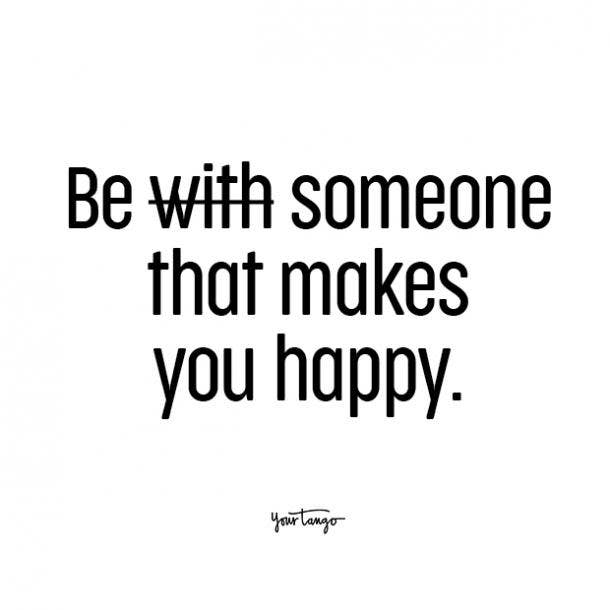 14. "I'm not a lonely person. I never feel lonely … It's not a sad thing to be alone. I think what I was trying to get across was that I don't feel a lack of something not being in a relationship. I don't feel like there is an emotional void to be filled." — Jennifer Lawrence
15. "I have learned not to worry about love; but to honor its coming with all my heart." — Alice Walker
16. "I've been single for a while and I have to say it's going well. Like … it's working out. I think I'm the one."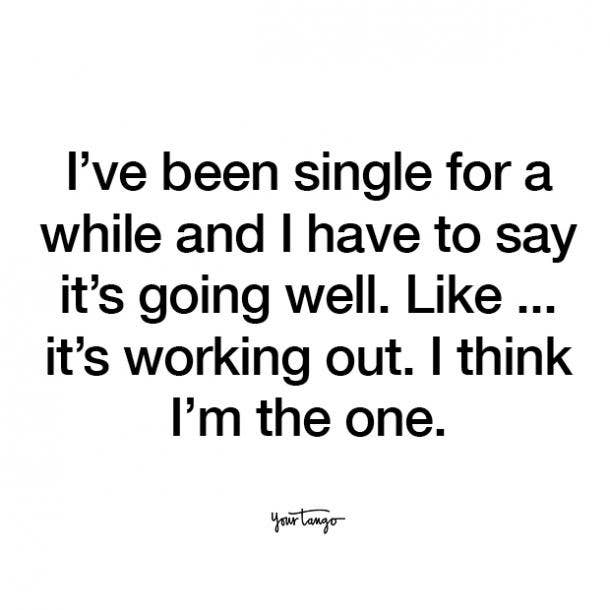 17. "When I'm alone, I'm alone. I don't have anybody to call, and so I have to create meaning from myself. That's why I don't give a fuck because I can't lose anything. What I have I make myself." — Constance Wu
18. "Hope for love, pray for love, wish for love, dream for love…but don't put your life on hold waiting for love." — Mandy Hale
19. "Being single is better than being in the wrong relationship."
20. "I think that's a new freedom for women, especially. I don't know that my mother would have been able to be 22 and secure in being alone. But my future doesn't rely on having a partner." — Miley Cyrus
21. "Your heart just breaks, that's all. But you can't judge or point fingers. You just have to be lucky enough to find someone who appreciates you." — Audrey Hepburn
22. "Being single used to mean nobody wanted you. Now it means you're pretty, sexy, and you're taking your time deciding how you want your life to be and who you want to spend it with." — Carrie Bradshaw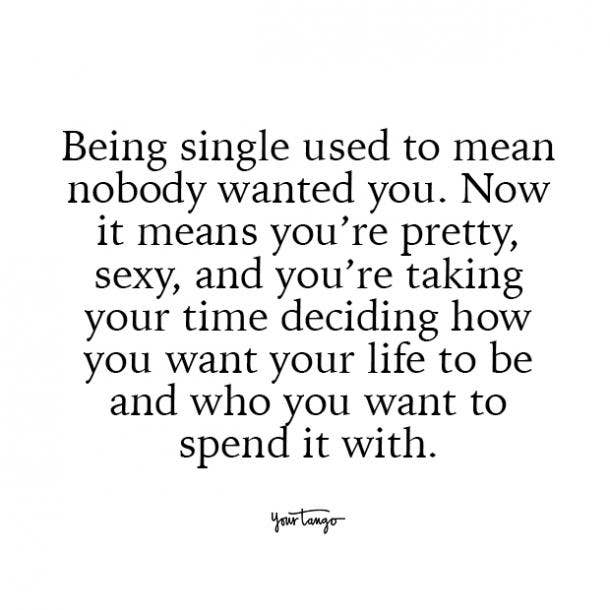 23. "We are becoming the men we wanted to marry." — Gloria Steinem
24. "Never love anyone who treats you like you're ordinary." — Oscar Wilde
25. "The best thing about being single is sleeping around. You can sleep all over that bed of yours. Left. Right. Middle. Wherever."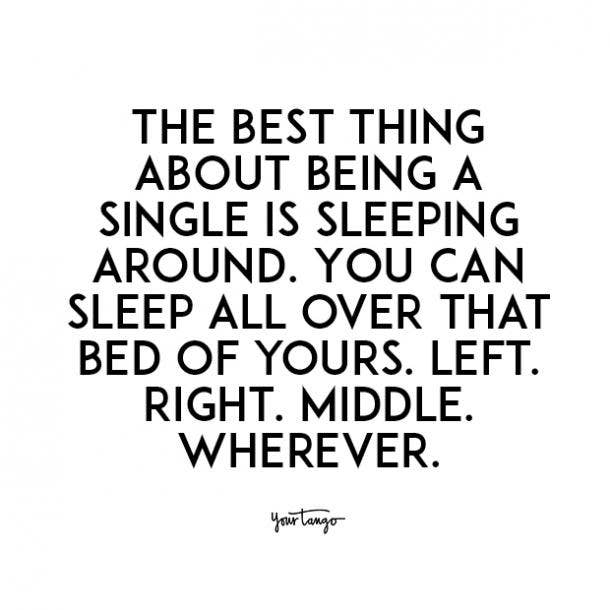 H/T: Yourtango