My grandfather is 93 years old and he still manages to run from time to time. Even though he acts as if as though he is blind, in a fact he is in a very good health condition. He has a very dusty hand watch and if you ask him about the time he will tell it to you precisely but if you meet him when he is jogging or going for a walk he will act as though he doesn't quite know who you are and he has problems seeing.
My father says that he does that to not get jinxed but I think he does that to mess around with people's heads. I love that expression that says you are how old you think you are. I am only in my mid-twenties and despite my rush and confidence about life, I feel as though I am 90 and tired and I have lived a long life. This makes me feel like an old man and as if my life is towards the end even though it is just the beginning. My girlfriend says the same thing about me.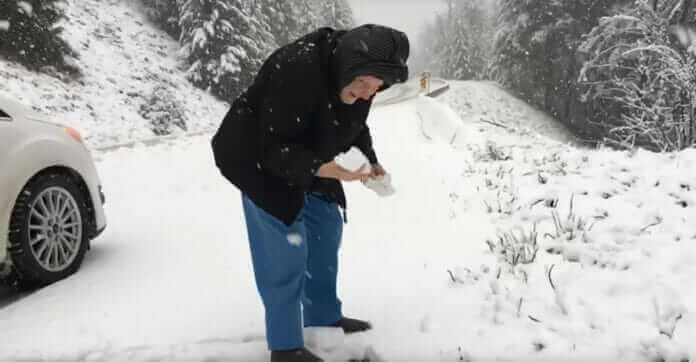 On this story look at this old lady playing with the snow. This lady here is 101 years old and she still managed to get out of the car for play in the snow. Despite her age and being more than a century old, she feels as though she is a kid and goes out of her son's car to enjoy the snow a little bit. Armand and his mother saw from the city that snow had fallen nearby, so he decided to take her there. and three kilometres outside of the city they found a snow place.
That is when the mother of Armand goes out of the car and starts playing with the snow. Armand takes his camera and starts filming her as she is lit up with joy to being a kid again. This is to prove that you are never too old to do anything. People think that when you are old and retire it is best that you stay inside and lay down in bed. But we will all die one day so you can stay on the bleaches or you can come out in the field. You might as well come out in the field and have a good time.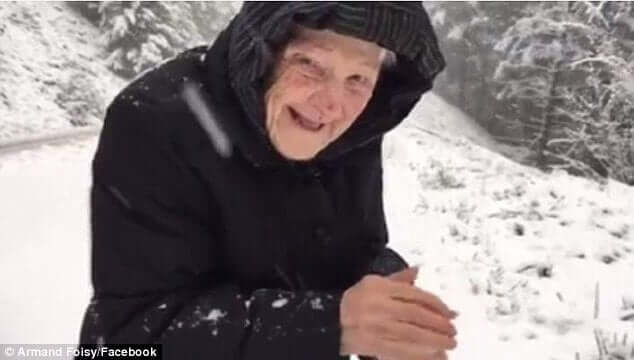 This 101-year-old is certainly having a fantastic time outside in the snow and you can tell that by the way that her face is cheering up. She makes a small snowball and throws it as if she is eleven years old again. This video is one of the most heartwarming ones that I have seen this year. And I wish I can become like this when I get old. I wish I maintain this kind of energy and spirit when I reach that age. If I reach that age.