The pandemic is bringing all sorts of problems to families from all around the world. One of these problems is one of having financial instability. A lot of families work hourly jobs and this means that they get through the month with barely any savings left aside. 
Nathan Nichols is a landlord that owns six houses in South Portland, Maine. After he found out that the case of the coronavirus was not going to go better and that people were going to not attend jobs for an uncertain amount of time, he decided that he would not ask tenants for their monthly rent as he always does.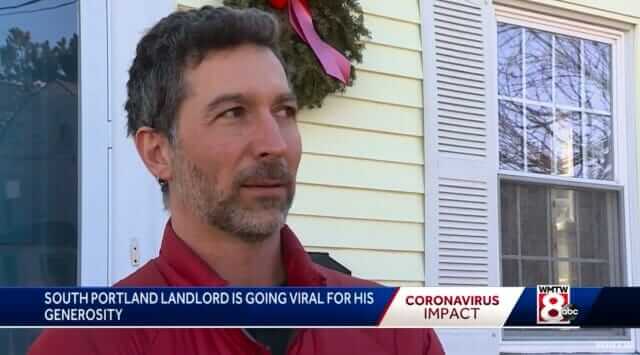 This is because he saw one case of a family he rented a home that broke his heart. They were a family of three. A father, mother and an infant. This family relied only on one source of income that was rather small to even get through the month. 
He took such a noble decision to not collect the rent on the families. This is done for a purpose by his side. The purpose to help someone else who might not have the possibility to make a payment for the moment but can catch up on those payments later on when the situation is more stable.

Coronavirus has everyone panicking and a lot of people can't go to their works. Therefore, they are not able to get the money that they need to pay for their living. So Nathan is an example for other landlords out there who need to do the same with struggling families. Not collecting the rent for one month won't make you poor and will increase your tenants' satisfaction.
Statistics show that families tend to pay more regularly when they are not forced to empty their wallets during difficult times like the ones we are living for the moment. This is a great thing to do from the part of the landlords or real estate companies. They can help some people out to stay at home, stay safe from the virus and at the same time not have to worry about whether they will have a place to live.
I think that everyone should engage more to help each other out during these difficult times. This is the best way for us to get through this pandemic with as little harmed people as possible.