Joe Biden recently has come out and given some news of what he will be doing first as the new US President.
Just a few days ago, the race for President had finally come to an end.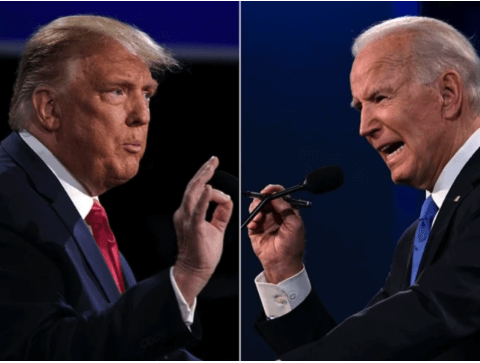 Biden will be the forty-sixth President of the United States, and he has already given some details of how he plans on running the country.
Now we want to go back a bit and give you the key events and points of this years' election.
Trump supporters came to the Detroit counting center.

After Trump started to post on social media and went public to express his feelings on the election, some protesters came to the center and were yelling to stop counting votes.
At the same time, Biden's living location had to be on surveillance and protection.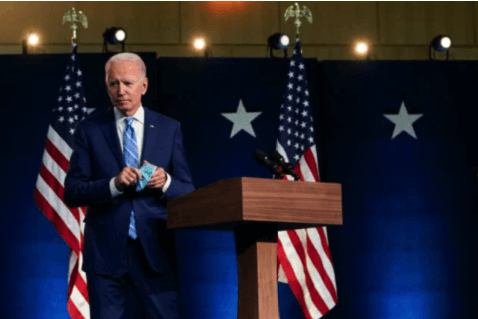 Because it was looking like Biden would win the election, some precautions had to be made.
Last week, Trump started to tell the public to protest the election and stop the counting process.

Trump continued to say that every vote that came in after Election day shouldn't be counted. Twitter flagged his tweets as misinformation.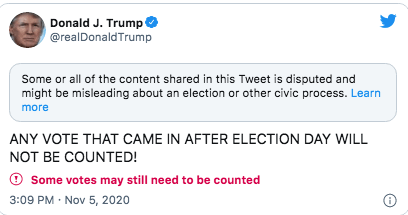 Many people were shocked to read Trump's statements. Chatham County Board of Elections, fortunately, dismissed his lawsuits.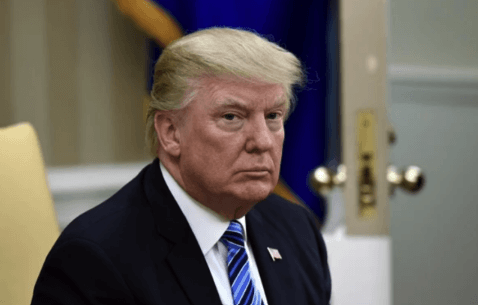 The judge said that there was no evidence that any ballot came in after 7 pm, making all the ballots valid.
Michigan was a big problem too.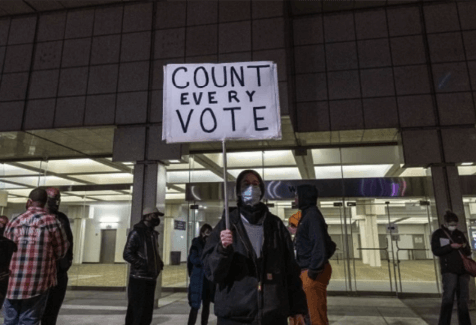 There were allegations that some poll watchers weren't allowed in the center in Michigan while the counting was happening. Cynthia Stephens, a Michigan Court of Claims Judge, has said that she will not accept any legal requests from the Trump camp.
Joe Biden was always confident that he would be the new President of the United States.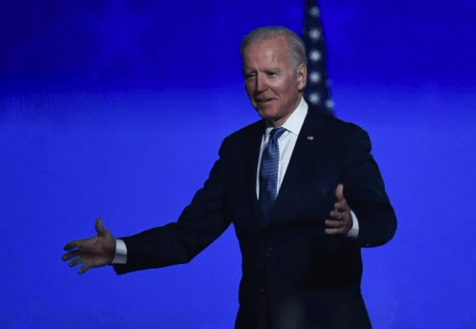 Days before the counting of the votes was finished, he gave a speech saying that he will win when all of it is done.
He has also said that he will rejoin the Paris Climate Agreement on his presidency's first day.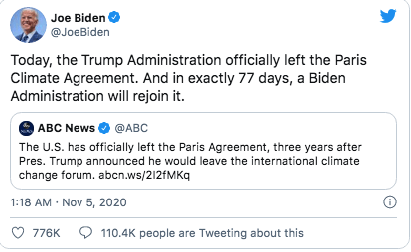 Trump announced three years ago that the US would pull out of the Paris Climate Agreement.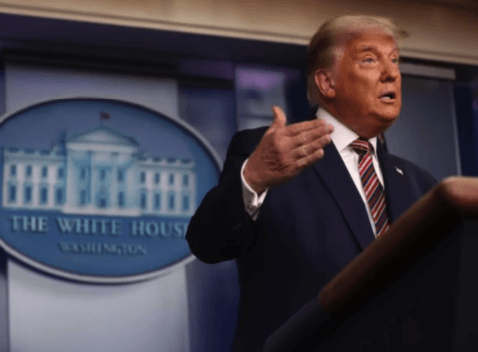 No long before the counting of votes ended, Trump gave the public that if only the legal votes were counted, he would be re-elected. He also deemed the mail-in-ballots as 'one-sided.'
Some news stations didn't air Trump's full speech.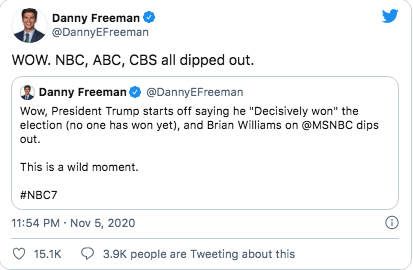 Trump made sure to tweet it out for those who didn't get to see his whole speech.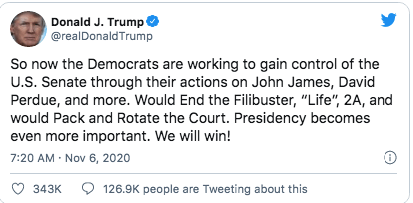 Trump also said that he would be taking legal actions in states where he was supposed to win, but Biden just edged the win.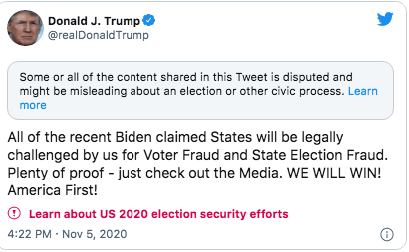 He also said that there is plenty of proof, meaning that the whole election has been a joke. He accused the Democrats of cheating as well. But Biden was there to respond to Trump's claims.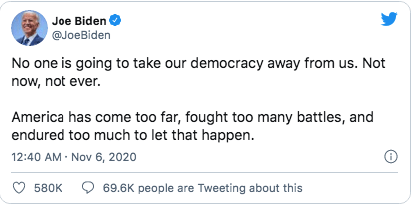 Biden said that every vote will be counted, and that America has gone so much to get where it is today, and that democracy will win in the end.
At one point, police got information that an attack was being planned on Pennsylvania Convention Center. They immediately started an investigation.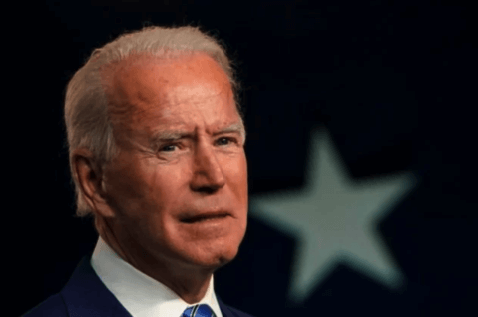 The information said that some people or a family would drive from Virginia to Pennsylvania and attack the center. The police later said that the car they thought had the group of people planning that attack was found, and an individual was taken into custody.
The security was increased, as Biden's victory was anticipated.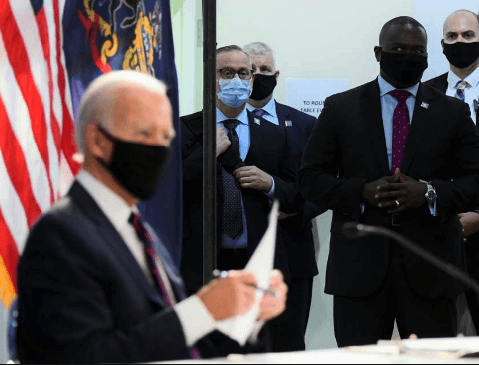 The Secret Service will be protecting Biden if a possible acceptance speech is held in Delaware.
Biden got the victory in Georgia.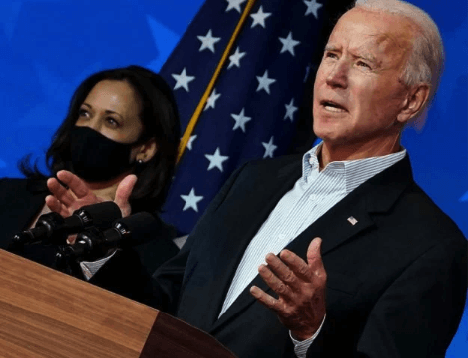 When news broke that he got 917 points, he was set to become the next President. He also got the victory in Pennsylvania.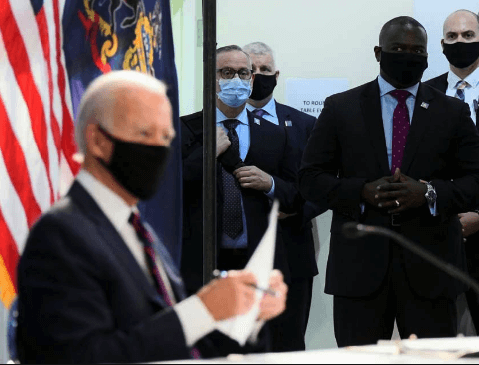 Trump was quick to post tweets.

Then things started to get a little bit out of hand.

Trump started to tweet about Biden as he realized he was going to lose the election.
Biden got the 270 electoral votes needed to win the election.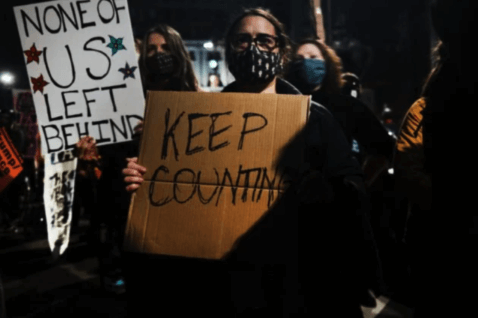 As Biden was projected to be the 46th President of the United States, Kamala Harris will be the new and first woman of color vice president.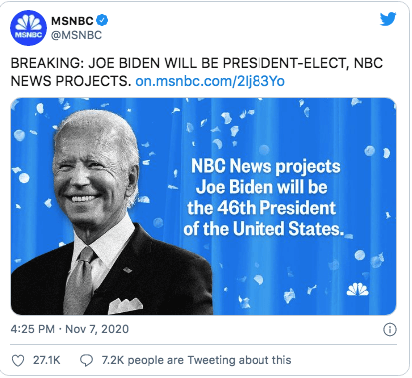 As Biden and his team are getting ready to take on their new jobs, the current pandemic will be their priority.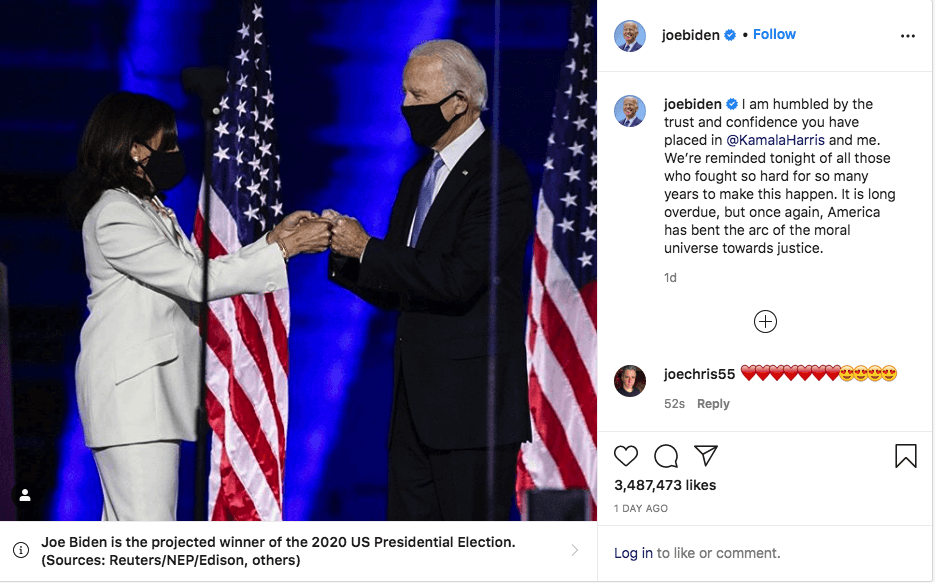 Biden's team has said that many problems need immediate action, and work starts from day one. They will try to restore faith in the institutions and public and lead the federal government.
Biden also had something to say after his win.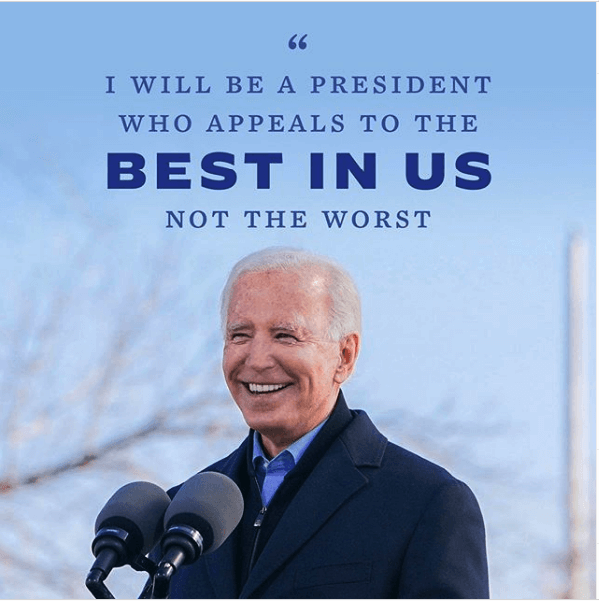 He firstly thanked the US citizens for choosing him for their next President and will do whatever it takes to be the President of all Americans, even for those who didn't vote for him.