Everyone knows that cute little Gerber baby face we all were raised with. I absolutely love the Gerber baby biscuits and remember my grandma always buying them in big packs for me to eat in the morning with milk. And surprisingly every time I get the chance to see these biscuits in the store I buy them. I know it is food mainly for babies but I just can not resist staying away from those delicious treats, especially when you dip them in some warm milk. But my wife always tries to keep away from me because they are high in calories and make you fat. I guess you got to think about your body first and not delicious baby food, am I right?
Receipts! pic.twitter.com/UBzFaBSxPK

— Chris Colin (@chriscolin3000) June 4, 2018
Something that left me mouth opened was that this Gerber baby that I always saw stamped on the Gerber food package is now 91 years old, wow that is something hard to the concept. How time flies so fast no one even recognizes it only when you see someone again in television and recognize only their name. A few days ago I remember seeing a post on Facebook of a celebrity that had just given birth to her baby girl, and the next time I saw her page the baby was like 3 years old! I was so confused about how time passed by so quickly and I am not even able to precept it.  I think this happens to all of us at some point in time. 
My grandmother was the Gerber baby. It was a funny bit of trivia, never made her rich or got us free strained peas or anything. But last week she got to meet the company's newest spokesbaby, named Lucas. Pretty pretttty cute. pic.twitter.com/u7ddWaM1Ed

— Chris Colin (@chriscolin3000) June 4, 2018
The original Gerber baby was taken in 1928 and not by photo but by scetch. The lucky baby was Ann Cook as most of us know and if you look closely she does have a lot in common with the Gerber baby. In 2018 another baby named Lucas Warren was to be the new face of Gerber. But these two Gerber babies have something in common. They are both firsts! 
I knew I had this somewhere… pic.twitter.com/0QxaHu5iJ6

— Timmy Beaverhausen🏳️‍🌈🇺🇸🇨🇦 (@tbeaverh) June 5, 2018
As we all know Ann was the original face of Gerber and Lucas is the first Gerber baby with down syndrome. But Lucas was not the only one who tried to be the new face of Gerber, he was among 140.000 babies, and surprisingly his unique cute features won him the title of  "new Gerber's face". Lucas and his family had gone for a vacation to Florida and what a coincidence, he met Ann there. The family was very happy he got this once in a lifetime opportunity to meet the original Gerber baby so they quickly snapped a photo of both of them. They posted in social media with the hashtag "HistoryIsMade". As soon as the photo was uploaded it went viral. People went crazy by seeing 91-year-old Gerber baby and 1-year-old Gerber baby both together in one photo.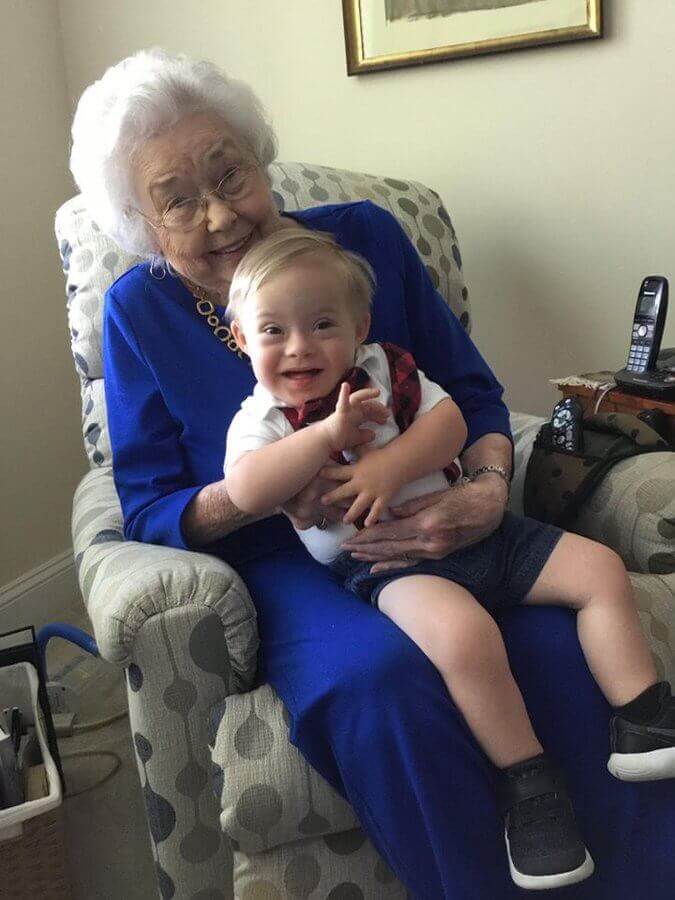 The moment was really cute and it was said that Lucas was running towards Ann with a cute smile on his face and armes wide open. Ann was just hearwarmed by the cute boy and she was surprised that they bonded so well together. This was such a heart-melting happening for all of us to witness.