I have been homeless a couple of times and even more so after deciding to move to another country. But I have never eaten food from the dumpster. Not that I am bragging about it, but is just that I know that no matter how bad the situation, there will always be good people out there who will give me something to eat for free. I have asked for a meal at fastfoods and among the rejection, there have been cases where they have just helped me out of their good heart.
The staff at Little Ceasar's noticed that people were going to their dumpster to eat the left over food so they decided to do something great. The general manager wrote a sign and decided to hang it on the entrance saying to the homeless people that they are worth more than dumpster food so they can freely come in to have a couple of slizzes of pizza and water. This action aspires to give the homeless some motivation and grace about their own self, instead of drowing in depression.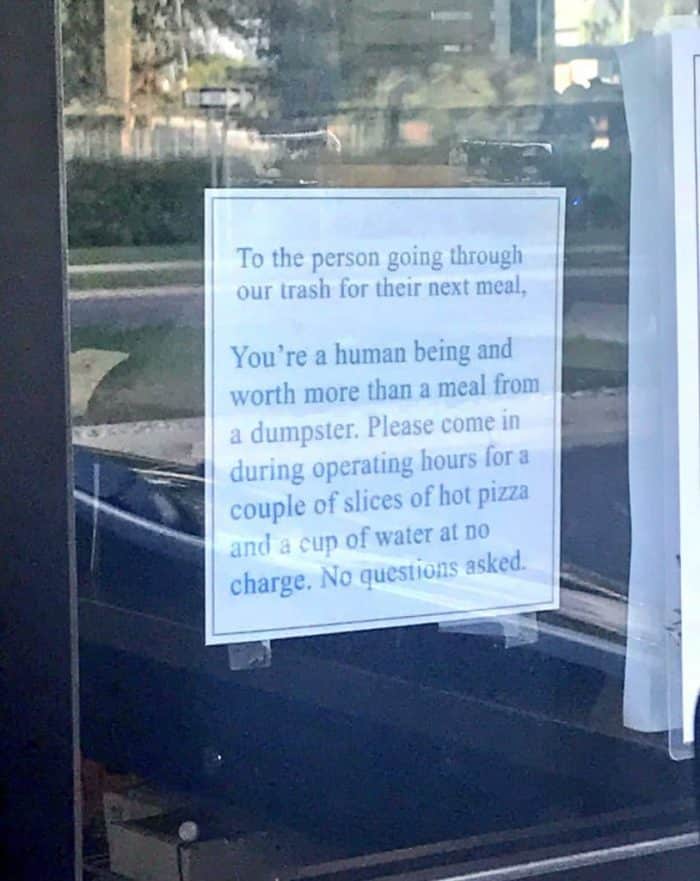 People do this a lot. Eating from the dumpster. You need to realize that no matter how bleak the situation, there is always some one out there, that is craving to help people. There is always a heart out there that are waiting to give you love. You maybe homeless as you are reading this, listen to me, I know that you are hungry, but please seek help. It will come, if not from a place, from another. Love yourself, people. Peace.