The Arkansas State Police recently shared this photo on Facebook, which was taken at a local town Festival. We're glad someone was able to capture this photo because no matter how you put it, words don't do this justice — the picture just says it all. Check out their post below.
Arkansas State Police
Last weekend, ASP assistance was requested by the McGehee Police Department, to help with security for the the towns Annual Owl Festival. While performing foot patrol around the festival, Corporal Mitch Grant was approached by four year old Charlie Kate, who walked directly to him and asked him why he was a Policeman. Caught a little off guard, Corporal Grant began explaining that he wanted to protect little girls and boys, just like her. While Cpl. Grant was talking, Charlie Kate grabbed his hand.

Smitten by the little girl, Cpl. Grant walked her to his car (with parents in tow of course) and gave her a Jr. Trooper sticker to wear, while they had a long conversation about what a State Trooper does every day. Even strangers at the festival stopped what they were doing to take a picture of the moment.
Sometimes, a picture says it all. #kindnessmatters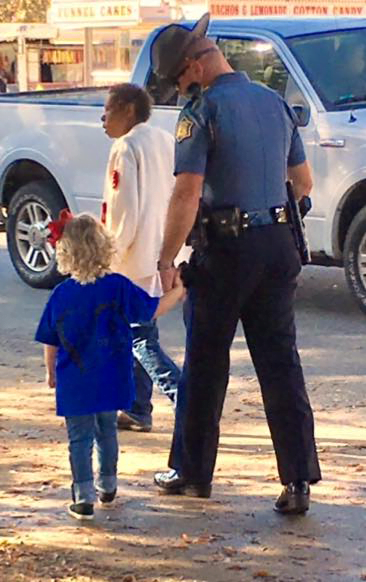 More than 1,500 people liked (and loved) the photo, with one user saying "These are the kind of posts I want to see on Facebook."
Doesn't this just melt your heart? Make sure to pass it on.