Retirement is a time many people eagerly anticipate, envisioning it as an opportunity to relish life's pleasures without the constraints of work. For some, this translates into exploring the world, picking up new hobbies, or simply embracing the freedom to exist without a daily grind. In this article, we delve into the extraordinary story of an Australian couple who chose an unconventional path for their retirement – 51 consecutive cruises. Marty and Jess Ansen, a retired couple from Australia, have taken this unique journey, discovering that it offers more than just adventure; it's also a cost-effective alternative to traditional retirement homes.
Setting Sail: The Ansen's Remarkable Journey
Marty and Jess Ansen have been enthusiasts of cruise holidays for decades. However, like many others, their cruise adventures came to a halt due to the COVID-19 pandemic. When the opportunity finally arose in June 2022, the Ansen's decided to make up for lost time. They embarked on the Coral Princess, a ship known for its indulgent buffets, entertainment options, and even table tennis matches.
However, what began as a brief getaway evolved into a 500-day odyssey. Marty explained, "Eventually, I said to my agent, 'Look, whatever comes, book it,' and that's how it got to be such a long cruise." The couple ended up booking 51 back-to-back cruises, staying aboard longer than anyone else on the ship, including the captain.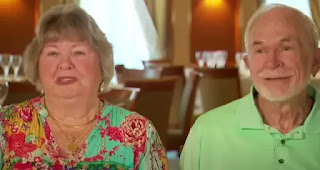 A Unique Dedication
Onboard the Coral Princess, Jess and Marty Ansen have become legendary passengers. Ren van Rooyen, the hotel manager, shared, "We always make a joke that I go away and I come back, and it's like coming to see my family – my mum and dad again – they're like my second mum and dad on board."
The Ansen's enjoy the perks of their extended cruise, including all-inclusive meals and daily housekeeping in their cabin. They've developed strong bonds with the ship's staff members, making their experience akin to a second family.
The Economics of Retirement at Sea
Jess and Marty Ansen's unique lifestyle has led them to an interesting realization – their cruising lifestyle is more cost-effective than residing in a retirement home. This revelation challenges the conventional notion of retirement planning. With their daily needs taken care of on the ship, the couple has found an affordable and fulfilling alternative.
A Daily Routine of Adventure
While some tourists might grow weary of the sea after a week, Jess and Marty have developed a daily routine to keep themselves healthy and entertained. They start each day with an hour of table tennis together, adding fun and fitness to their adventure. Jess stated, "We do it together, and we have a lot of fun." These games serve as the perfect warm-up for indulging in the cruise's sumptuous buffets.
Lifelong Dreamers
With over 450 days of continuous cruising under their belts, Jess and Marty Ansen remain steadfast in their commitment to this remarkable way of life. If given the chance, they'd continue their voyages for the rest of their lives. Their story stands as a testament to the idea that retirement can be an opportunity for living one's dreams to the fullest.
In the twilight years of life, Marty and Jess Ansen have discovered an unconventional yet rewarding path to retirement. Their story is a testament to the possibilities that await those who dare to break from tradition and pursue their dreams. In their case, the dream includes endless horizons and the vast expanse of the open sea.
Watch the video below: