Former President Donald Trump's older sister, Maryanne Trump Barry has died at the age of 86, according to The New York Times (NYT).
Barry was reportedly found dead in her home located on the Upper East Side of Manhattan on Monday morning, two people close to the situation informed the NYT
Barry, a former federal judge in New Jersey, had been married to John Barry, a veteran trial and appellate lawyer.
She retired from her position in 2019 amid several inquiries into the Trump family's handling of alleged tax fraud and financial transactions.
The former president and his sister had been close.
However, after their niece Mary L. Trump released a memoir about the family, including audio recordings of her aunt speaking critically of her brother, tensions rose between the two.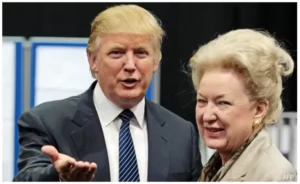 She was born in 1937 and held top judicial positions for presidents Ronald Reagan and Bill Clinton during her career.
In 1974 Barry became an assistant United States attorney for the District of New Jersey and was one of only two women out of 62 lawyers in the office.