Whilst kids love to unwrap Christmas presents and play with their new toys, the dangers in those toys become quiet clear. Initially they look nice and tidy in their colourful wrapper, but the reality they can actually become rather dangerous.
A broken toy resulted in trip to the hospital and emergency surgery for this particular family. A young boy called Beck managed to open up a seemingly innocuous toy: a plastic, magnetic building triangle.
You've more than likely seen them. The small magnetic pieces are used to build larger structures. The issue occurred when the piece was broken, magnets contained within it spilled out and Beck swallowed 13 of them.
Battery button are incredibly dangerous and often lethal for children and pets, however people are not aware of how dangerous magnets can be. Jennifer White shared her story to Facebook in an attempt to warn other parents about these pitfalls.
"Please keep him in your prayers and thoughts ❤️" she wrote on Facebook on Dec. 27 along with an image of her son, "all the good vibes and juju are needed. We are headed to Children's hospital in Milwaukee.
"Beck and Mom are taking an ambulance and Dad's meeting us there. Beck broke open a magnetic toy and has 13 tiny magnets in him."
"If you have little ones or chewers these are dangerous and we're removing them from our home. Dogs could also break these open too."
"Updated: He has finished with surgery they had to remove part of his colon, intestines and appendix. The magnets created holes and infection in his intestines. He has to stay in Children's for at least 3-4 days. They need to restart his bowels and watching the infection. He is high risk still and please keep him in your thoughts and prayers thank you 🙏"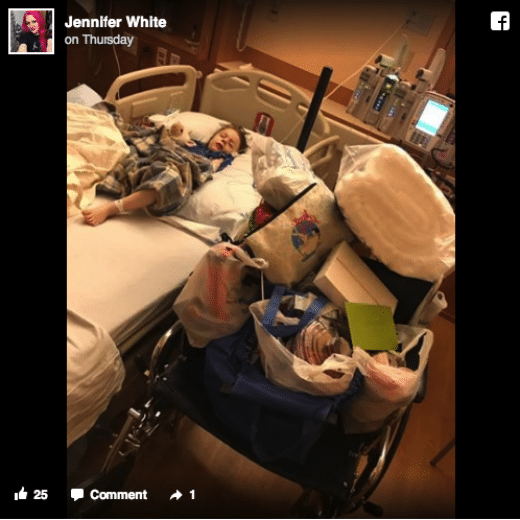 So many people have sent their prayers and gifts, although Beck has been sleeping a lot, thankfully things are looking okay at the moment, according to recent Facebook posts.
"Never in all of my life have I had the support and unbelievable generosity of so many people," White wrote on Dec. 28 "I'm still in complete awe. Beck is doing well and mostly sleeping which is good cause it will be easier to rid the infection in his stomach."
"His stay will be at minimum four days and our family is over an hour away … We are beyond blessed and set for whatever comes are way with Beck this week. I'm pretty sure I haven't stopped crying since a special angel showed up with so much love from so many of my friends and new friends."
"Thank you all so very very much from the bottom of my heart and from my family. We are truly grateful and blessed for all the love and support. He will be excited to check out some movies and programs when he does wake up. Thank you!!!!!"
Luckily for this family they caught it in the nick of time despite the stress and trauma they've experienced. Thankfully it looks like Beck will pull through. Make sure to keep an eye out for such dangers that are often in plain sight!
Help us spread awareness and SHARE this post with other parents on Facebook to prevent any other incidents.