I thank the Universe each and everyday for being normal. I know how hard it can be for people with disabilities to walk this land. The world is a greedy and ferocious place that doesn't care about us at all. All the masses care about is their beauty, their fake social media profiles, how to make more money, how to have as many sexual encounters as possible and how to make fun of others. This type of mindset crushes the innocent of the world. Especially when you are someone with a skin condition.
I used to have a boy in my old neighborhood who was born different. He had a huge red spot on his cheek skin. And he would get bullied so much about it. Just because other kids are normal, these spoiled little brats think that they are the top of the world and their entitled parents teach them that mentality. But they don't stop even for a second to consider that they might be hurting somebody's feelings. The only thing they care about is their own well being and how cute and perfect their little world is. I pity these stone-cold people.
Joao Stanganelli is a 64-year-old man with a rare skin condition. He has vitiligo which is a condition that affects only 3% of the population the characteristics of the condition are that creates white spots on the skin. The condition itself is not life-threatening and besides the white spots it doesn't have any other side effects, besides that the people with the condition can be a little bit sensitive to the sun. But the problem is appearances. Like I said the world is a cruel and mean place and they will not accept you if you don't look, talk, dress or act like them.
That is why so many people fall in the abyss of being fake because they don't want to be left out. They want to fit in this world and even if that means changing the core of who they are. That is not fair and it is about time that someone says 'enough'. Joao learned crocheting from his wife and he soon became addicted to it. He liked the profession so much that he decided to do it as a hobby now that he is retired. But this hobby would change his life.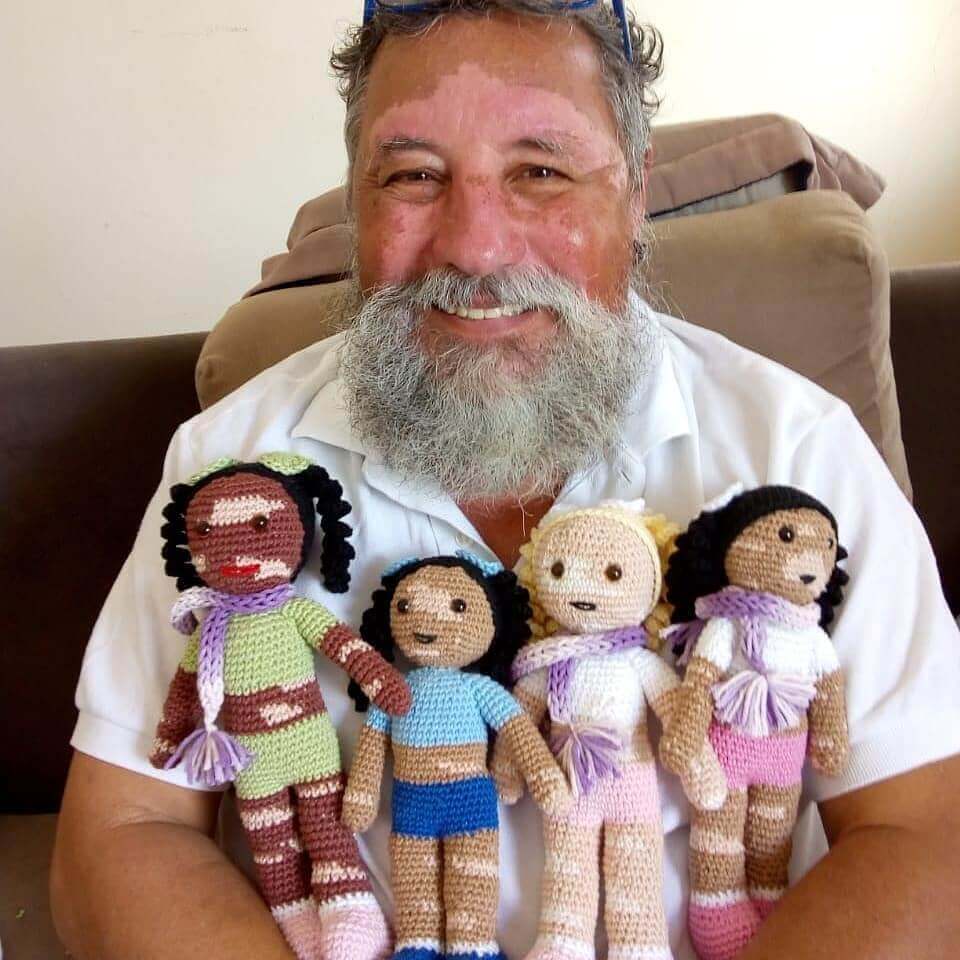 He did a first doll for his granddaughter and added a few patches that look like vitiligo condition on the doll. She liked it so much that it gave Joao another brilliant idea. He thought of making different dolls for kids with disabilities all around the world. And now he is doing it. He is sending out dolls in wheelchairs, dolls with vitiligo 'condition' and other samples just to make the kids feel better about themselves and feel better about the way they are. We are all imperfect but is this imperfection that makes all of us perfect.