A young boy from the United Kingdom sent a letter to his deceased father. On the envelope, he post marked the address "To Heaven". The response he got in return has been warming hearts all over the globe.
The boys name is Jase and he is seven years old. He wanted to send his father a hand written card on his birthday, but didn't know how to address it. So, he sweetly and innocently put into writing, "Mr. Postman, Can you take this to Heaven for my dad's birthday?"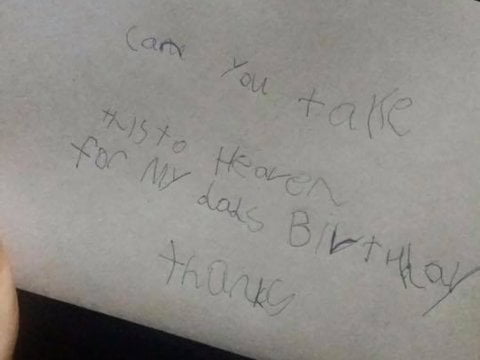 The boy received a heartwarming response from the Royal Mail. The return letter begins by saying, "Dear Jase, while we've been delivering your post, we became aware of some concerns."
Sean Milligan, who is the Assistant Delivery Office Manager for the Royal Mail, continues in his letter by saying, "So, I just wanted to take this opportunity to contact you about how we succeeded in the delivery of your letter, to your dad in Heaven. This was a difficult challenge avoiding stars and other galactic objects en route to Heaven."
Milligan was certain to assure the boy that the letter was delivered safely. He finishes the note, "However, please be assured that his particular important item of mail has been delivered. Royal Mail's priority is to get our customers' mail delivered safely. I know how important your mail is to you. I will continue to do all I can to ensure delivery to Heaven safely."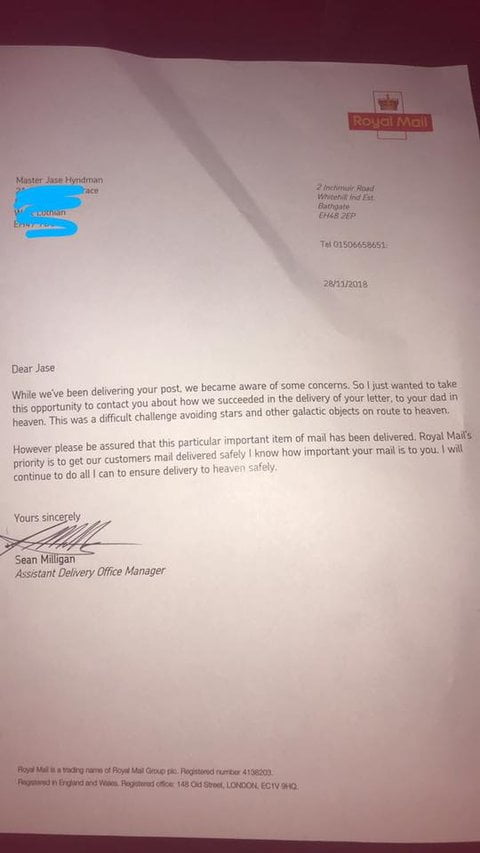 After receiving the letter, Teri Copeland, Jase's mother, made a post to Facebook expressing her gratitude. She mentions that her son has been very positively affected by the experience. In the post she writes, "I actually cannot state how emotional he is knowing his dad got his card … you didn't have to make the effort to do this, you could have just ignored it, but the fact that you have made the effort for a little boy you've never met is such a lovely thing to do."

She continued, "Royal Mail you've just restored my faith in humanity."

This post went viral overnight, and it currently has over 400,000 shares on Facebook and almost 50,000 comments. All of the people whom have seen this endearing letter have expressed their agreement in their sentiments for the Royal Mail.