We use the term miracle pretty easily these days. Pregnancies are a great example of that, we call one pregnancy a miracle, then what should we call seven pregnant women being pregnant at the same time? Well, this happened at an elementary school in Kansas, and both the people who were involved in the pregnancies as well as the others from the staff were pretty amazed and shocked by this strange occurrence. Some people from the staff even said that this showed that the school was somehow blessed in a magical way!
An elementary school in Goddard, Kansas, known as the Oak Street Elementary with staff that consists of 15 teachers experienced a pretty shaky event once a couple of the teachers revealed that they were halfway into their pregnancy. Namely, seven of the 15 teachers were pregnant, which makes nearly half of the school's teaching staff. The principle of the school Ashley Miller said that she couldn't believe what the teachers told her.
The principal had nearly 20 years of experience in this line of work, and in those 20 years, she had never experienced something even remotely close to this. The principal even said that at one point she thought that there was some kind of a plan going on between the teachers. But, as the end of this story showed, it was nothing more than perfectly good timing.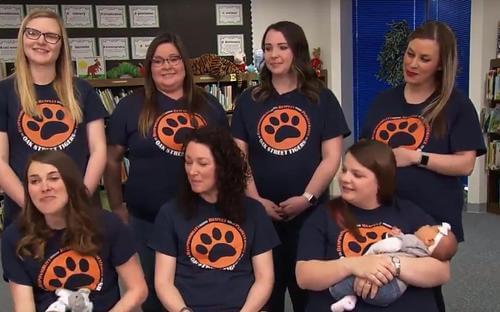 All of these pregnancies in one moment of time had sure caused some complications, and now the school had to solve the lack of teachers, so they started looking for substitutes.
The principle stated that the fact that all of the teachers had different due dates, so this meant that not all of the teachers were going to leave at once. She also added that the teachers are lucky that they were working at a school that takes care of its employees and supports the soon to be mothers.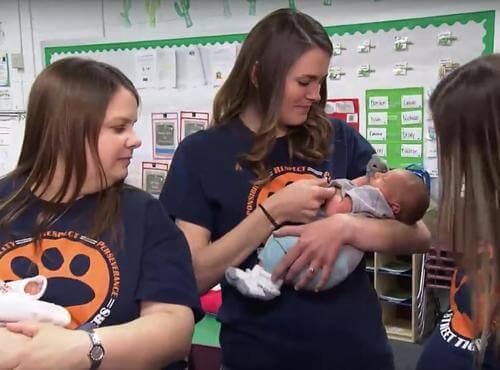 All of the stories that the mothers had were amazing, and it all started with a 4th-grade teacher, she is actually carrying twins and she is the first one that is going to bring her children to this world. Next, a kindergarten teacher who already has two kids and she discovered that she was pregnant right after she heard the amazing news about her colleague.
The principle of the school jokingly said that they are going to inspect the water because there must have been something in the water that caused all of them to get pregnant at once. But, we all know how strange reality can be some times.
The first two teachers already gave birth to their beautiful children, and they're due by October. As for the rest of the teachers, we hope that they have enough time on their hands so that they could bond with their children and completely recover from their pregnancies.
And, also we are hoping that other schools will follow this school's example and learn that we should respect mothers, with this once in a lifetime phenomenon.
Did you love this amazing story about the seven teachers that got pregnant in basically the same time? If you did make sure that you share it with your friends on your social media, share this story with anybody you think would like to read these kinds of pregnancy stories. Thanks for the time!